CEO Blog Post 16.03.22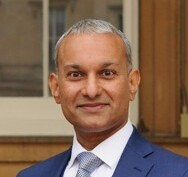 Dear colleagues, whilst we will all be mindful of the war and tragedy in the Ukraine, I wanted to start with some positive news. The Littlehampton Academy (TLA), alongside Sir Robert Woodard Academy (SRWA), were the first schools in the Woodard Academies Trust. I am so pleased that the recent Ofsted inspection of TLA, like SRWA, judged the school as Good in all categories and overall. Some of the highlights:
"Senior leaders have a clear vision for the school that is suitably articulated through the school's self-evaluation. They have worked hard to improve the quality of education, as well as teaching and behaviour. Relationships between pupils and teachers are strong and based on mutual respect.
Pupils study a broad and rich curriculum with a wide range of subjects. The curriculum matches the school's intentions and is taught by knowledgeable teachers. The accredited careers programme supports pupils' high aspirations. Assessment practices are used well to check on learning and adjust the curriculum where needed. The content builds carefully on the work of partner primary schools.
Disadvantaged pupils and pupils with special educational needs and/or disabilities are well supported throughout the school. Pupils said that they feel safe in school, and that they are taught how to keep safe outside school, including when using social media."
I want to congratulate the school leadership, staff and pupils on this achievement: the first time the academy has been judged a Good school. You can read the TLA report here.
School Improvement
Woodard Academies Trust is comprised of sponsored academies and a Free school, very different from Trusts that started with outstanding/good schools converting to become academies. It is great to see how our position has transformed recently – with 5 of our 6 schools now judged Good by Ofsted - a graph says more than a thousand words: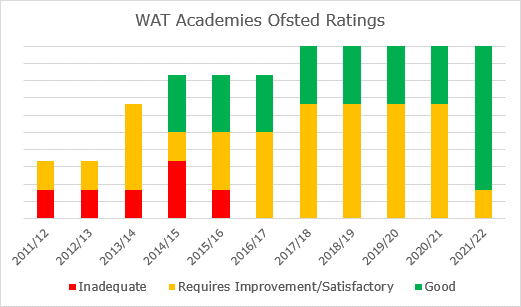 Staffing
Congratulations to Ruth Ashbee in securing a promotion to Senior Deputy Headteacher at Holly Lodge High School in the West Midlands. I'm really sorry that we are losing her at Easter though. She's led our thinking on, and implementation of, strategic priorities on curriculum and subject collaboration and made a step-change to our focus on continuing professional development. I've loved her WAT Highlights. Given the progress that has been made on school improvement, Carol-Anne Alcock, the Trust's Director of School Improvement will reflect on changes we need to her team (and how best to use the talents within schools, across schools).
Corporate Service Improvement
Vicky Creed, the Trust's Director of Corporate Services, is welcoming some of our colleagues working on finance to London next week to take forward another one of our strategic priorities: creating efficient and effective systems and processes for our finances. It's great to see collaborative working on improvements.
Professional Development
I look forward to seeing you at our next Woodard Webinar at 4-5pm on Thursday 31 March with Andrew Percival on applying cognitive science in the classroom, using examples from primary. Andrew's a deputy head and curriculum lead in Oldham and you can follow him on twitter @primarypercival.
Reading
I was on holiday in Argentina for half-term so did a lot of reading. Despite being published some time ago, The Prisoners of Geography is topical with Tim Marshall's analysis of Russia's invasion of Ukrainian Crimea, and it is a pity that The Windrush Betrayal did not lead to the end of such injustices.

Matthew Syed's Rebel Ideas contains a great quote from the philosopher John Stuart Mill from 1848 on the value of diversity:
"It is hardly possible to overstate the value … of placing human beings in contact with persons dissimilar to themselves, and with modes of thought and action dissimilar to themselves, and with modes of thought and action unlike those with which they are familiar…. Such communication has always been, and is particularly in the present age, one of the primary sources of progress."
Hardip Begol
Chief Executive Officer