CEO Blog Post 26.04.22
Dear colleagues,
I do hope you all had a great break for Easter and are looking forward to the Summer Term. The Trust has been recruiting a new CEO and I am pleased that, following an open recruitment process, the trustees have appointed Mike Pettifer to take up the position from 1 August 2022.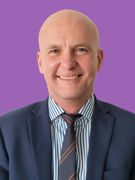 Mike Pettifer has spent his career in education, including nine years as the senior civil servant at the Education and Skills Funding Agency responsible for delivering funding to schools, ensuring the financial health and accountability of the school and academy sector, and maintaining high standards of financial probity. He led over 500 staff and was responsible for allocating over £40bn per annum. Since July 2020, he has been Director of the Department for Education Covid Response Unit, working and planning across all education and care sectors.
Earlier in his career, Mike spent a decade at the Learning and Skills Councils, working locally on the planning and funding of Further Education, promoting the delivery of apprenticeships, and funding adult and community learning to improve outcomes for young people and adults in their local area.
The transformative power of education is of real importance to Mike who benefitted from it himself and is committed to making sure as many children and young people as possible can do the same. He started his career as an English and ESOL teacher at the City of Westminster College spending five years delivering programmes to support refugees learning English and finding work placements. He also did a lot of work with young people on apprenticeship programmes and has carried the experience of those early years with him throughout his career.
I will step down from the CEO role on 31 July and provide Mike with a short handover.
Qualification Outcomes
I've seen a number of articles recently about whether qualification outcomes are important: the exceptional entrepreneur that succeeds without formal qualifications; some employers saying they don't take account of qualification results; and impacts on well-being of striving to achieve good qualifications. But the evidence is clear that qualifications do matter for the vast majority of young people: a student securing a good pass in English is significantly more likely to take a Level 3 rather than Level 2 course post-16; higher grades widen the range of choices students have for further study and progression; and virtually every improved grade at GCSE – especially in maths and sciences - is associated with higher lifetime earnings according to the evidence. That's why as a Trust we have a strategic objective to maximise the progress of every pupil at the Trust as qualification results are important for their future.
Professional Development
Our next two professional development webinars will be with two experts who know the Trust well:
Ruth Ashbee - 4-5pm on Wednesday 27th April
About the event: What is the purpose of school? This question has exercised teachers and philosophers for centuries and continues to do so to this day – but one purpose commonly cited is that of "cultural capital." In this session we explore the meaning of cultural capital, its relationship with curriculum, and our role in schools in developing the cultural capital of our students.
About Ruth Ashbee: Ruth Ashbee is a school leader, blogger and author of Curriculum: Theory, Culture and the Subject Specialisms. She is a Senior Deputy Headteacher, has worked previously for Woodard Academy Trust and is a frequent presenter at school training sessions and education conferences.
Socials:
Twitter: @Ruth_Ashbee
Blog :https://www.ruth-ashbee.com/
Natalie Packer - 4-5pm on Thursday 5th May – Trust Wide CPD Slot
About the event:: Natalie Packer is a national expert on Special Educational Needs and Disability (SEND) and has being working with academies in the Trust to look at provision and outcomes for pupils with SEND. In this session she will discuss how to improve outcomes for SEND pupils. All staff are responsible for pupils with SEND and so this will be relevant to everyone in the Trust and Woodard Schools.
About Natalie Packer: Natalie Packer is the Trust's commissioned SEND adviser and has decades' worth of experience on SEND, including with the National Strategies and now as an educational consultant. She is an author and frequent presenter at school training sessions and education conferences.
Socials:
Twitter: @nataliepacker
Estates and buildings
Overall as a Trust we are fortunate in having four or our six schools as predominantly new-builds, which provide a great environment for pupil learning and colleagues to work in. We are expecting to receive over £1m per annum in funding for building improvement and maintenance over the coming years, which gives us an opportunity to enhance our more mature, characterful schools and we are developing an estates strategy and asset management plan over the coming months to make best use of the funds. It will also give us options for reducing our environmental impact and the expansion plans at a number of our academies.
Reading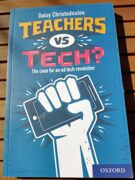 I "borrowed" Teachers versus Tech? by Daisy Christodoulou from one of the Principal's offices and read it over Easter. She systematically demolishes some of the wilder claims as to the positive impact of technology – personalised learning styles; search engines meaning memory isn't important; projects which actually lead to learning goals being missed; and connected devices that simply distract students from learning. She says "the more effective [technology] approaches seek out what is valuable about teacher expertise and try to copy or even improve it" and advocates using technology to improve how we assess students (but combined with teacher judgement).
Installation of the Senior Provost of the Woodard Corporation
The sponsor of our Trust is the Woodard Corporation, founded in 1848, alongside the first school in the Corporation, Lancing College. On Saturday, I attended the installation of the Corporation's new Senior Provost, Rev Justin White, at the College as well as marking the completion of Lancing College Chapel with a new porch. The final prayers were led by Y9 pupils - Charlie from Sir Robert Woodard Academy (SRWA) and Promise from The Littlehampton Academy (TLA) - and the SRWA/TLA Chaplain, Paul Sanderson MBE. It was great to also see SRWA Vice-Chair Rev Pat Alden and Sir Robert Woodard himself was also present at the event.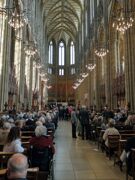 I am looking forward to short-listing for the new TLA Principal first thing on Tuesday and then suitable candidates can visit the school during the day with a final interview on Wednesday. I hope your week goes well too.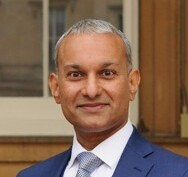 Hardip Begol
Chief Executive Officer