Our Performance
One of the Trust's values is ambition. We set high expectations and ambitions for ourselves and each other, and we are relentless about meeting them. We will always challenge under-performance.
We have ambitious success measures against our strategic goals and we monitor our performance against these.
We have three measures for pupil outcomes:
1. The Trust's Progress 8 measure reaches and stays in the top-half in the country. The target for 2021 was -0.2, which the Trust exceeded.
School/Trust

2019 Progress 8 (DfE)

2021 Progress 8
(FFT Estimate)

Kings Priory School (KPS)

0.28

0.42

Polam Hall School (PHS)

-0.07

0.04

St Augustine Academy (SAA)

-0.55

0.19

St Peter's CofE Academy (SPA)

-0.41

-0.32

Sir Robert Woodard Academy (SRWA)

-0.41

-0.19

The Littlehampton Academy (TLA)

-0.49

-0.13

Woodard Academies Trust

-0.36

-0.04
2. The Trust has a specific target relating to progress for pupils eligible for the pupil premium (PP): by 2023 we want to be in the top half of the country in terms of the progress. In 2019, those eligible for PP at WAT had a progress 8 score of -0.74; in 2021, FFT estimate that this had risen to -0.66 for FSM6 pupils.
3. The Trust is conducting a survey of 2020 and 2021 leavers to establish a baseline for a measure on how well our alumni believe we met our Trust vision.
The Trust's school improvement measure is that Ofsted rating for all schools is at least Good at the next full inspection.
School

2019

Latest

KPS

Good

Good

PHS

Requires Improvement

Good

SPA

Good

Good

SAA

Requires Improvement

Effective
(Monitoring October 2021)

SRWA

Requires Improvement

Good

TLA

Requires Improvement

Good
The Trust's staff engagement measure is based on the Kirkland-Rowell staff survey, averaging across the following five aspects of engagement.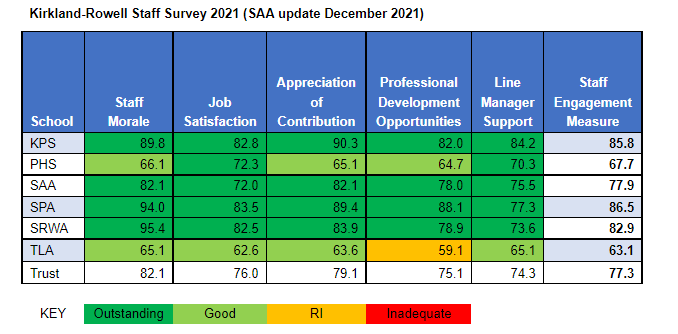 The Trust's staff engagement measure should rise to 75% by 2023 (with all schools with a response rate of 75% and no score below 67%). The 2021 measure was 74.9%, an increase of 2.3% points from 2020, but following St Augustine Academy's additional staff survey in December 2021 it rose to 77.3%, exceeding our target.

The Trust has a growth success measure to increase the number of schools in the Trust by two by 2023.